Missions
But you will receive power when the Holy Spirit has come upon you, and you will be my witnesses in Jerusalem and in all Judea and Samaria, and to the end of the earth." - Acts 1:8
WAYS TO SERVE ON MISSION RIGHT NOW
Mary Hill Davis Offering and Week of Prayer
Understanding that missions is what believers do to reach beyond the needs of their congregations to witness and minister for the purpose of fulfilling the Great Commission, WMU of Texas designed the Mary Hill Davis Offering to advance Texas Baptists missionary efforts to help people come to know Christ. You are invited to give to this important offering! You can do so in person for the next two Sundays (Oct. 2nd and Oct. 9th), or by giving online or with your Church Center app.
Tell Me More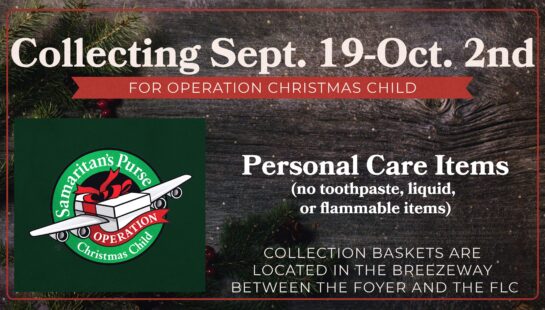 Operation Christmas Child Supplies
We are currently collecting supplies for Operation Christmas Child and our packing party that we will have in November. Through Sunday, October 2nd, we are focusing on Personal Care item. Bring your donations with you this Sunday and you'll find the donation baskets in the breezeway between the Worship Center and the FLC! On Sunday, November 5th, we'll get together for our Packing Party!
MORE ABOUT OCC
Denton Baptist Association will be packing bags of rice for Ukrainian refugees. DBA will also do a mission project with Mission Denton. Families, Churches, and individuals of all ages are welcome. FREE ice-cream and snow cones will be provided. Donations to pay for food are needed. Purchase a box of food for $65. One box of food will provide 216 meals.
Register to Serve!